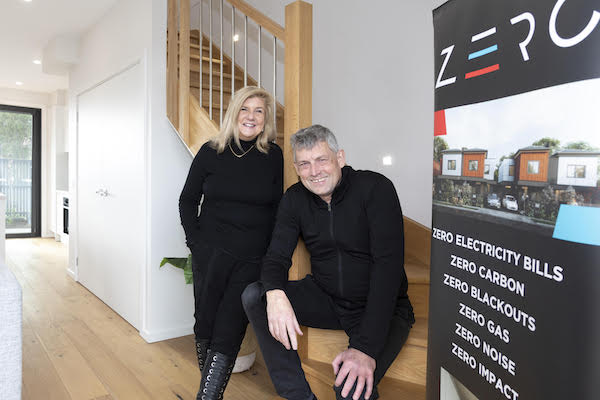 ZERO Living co-founders Ingrid and Tom Graze
As Australia's energy costs soar, Melbourne-based company ZERO Living has launched five battery-powered houses with a breakthrough design that makes them more affordable to buy and live in, with zero energy bills and no blackouts.
Costing from $640,000 for a two-bedroom home, the fully engineered houses are in the western Melbourne suburb of Albion, where the median house price is more than $800,000. Fitted with Enphase microinverter-equipped solar panels and Tesla batteries, each house generates more than twice as much energy as it consumes. This effectively reduces its energy costs to zero, saving its owner an average of nearly $50,000 in energy costs over 20 years (in 2021 costs) *.
ZERO energy homes are designed from the roof down for space, comfort and low energy use, with high-quality energy-efficient materials, appliances and insulation. Each home is individually tailored to its building site, maximising its liveable space while reducing the building footprint and property cost.
ZERO Living founders Tom and Ingrid Graze have collaborated for the past three years with Swinburne University of Technology's School of Engineering to develop smart energy monitoring systems that can help homeowners become even more energy-efficient. Each home is wired to monitor major appliances in real-time, with Swinburne analysing the data and returning it to the homeowner or occupant via a ZERO smartphone app.
ZERO Living founders Tom and Ingrid Graze introduce their ZERO energy houses in Melbourne, Australia - with no bills and no blackouts!
Ingrid Graze said the idea for ZERO energy homes was sparked by the increasing unaffordability of buying and running a home. "We're supposed to be living in the Lucky Country, but that's increasingly not the case for many people because of the high price of housing and the rising cost of energy," she said.
"One day I was speaking with an 84-year-old woman who stays in bed when it's cold because she's afraid of the cost of heating her room. That should not be happening. At the other end of the age range, so many young people cannot afford to even get into the property market. We are engineering and building energy-efficient fully monitored homes that address these problems. They are affordable to buy. They cost nothing to run. They contribute to the climate solution - not the problem!"
Three years ago, ZERO Living built its first three fully-engineered houses in Footscray which it rents out through AirBnB as "living laboratories" to monitor their energy use by nearly 600 tenants and to compare the performance of various solar panels, appliances and equipment. Monitoring of these "living labs" by Swinburne confirms they produce significantly more energy than they consume and achieve zero energy bills.
ZERO Living has unveiled its first five houses for sale, on Derrimut Street, Albion, with about 40 more in the pipeline, including two and three-bedroom houses in Footscray. West Footscray, Albion and Maidstone. The company can also design and build a ZERO energy home on a client's block of land.
Tom Graze said every home could be zero energy with an engineered approach. "ZERO design is all-electric, which is why we use the best of the best, such as Miele, Tesla, Bosch and Enphase," he said.
"When you design a car, its components are engineered to work well with each other, so we do that with our houses. Everything fits together: Solar panels with microinverters. Insulation. Paints. Construction materials. Stone benchtops. Double glazing. Spilt systems for heating and cooling. Heat pumps. Each home's energy use is monitored in real-time in the same way as a Tesla car."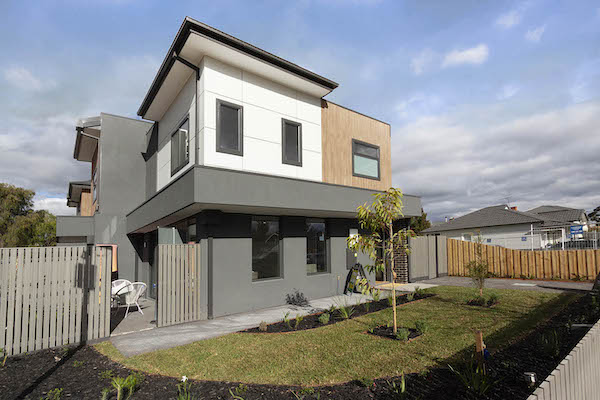 One of the first ZERO homes, at 47 Derrimut Street, Albion
Tom said energy monitoring, measurement and management are the keys to zero energy bills. "We use 415-watt solar panels, each fitted with its own Enphase microinverter, to work independently as roof space and angles are limited," he said.
"The best microinverters are from Enphase, which are the critical components to make this work. This allows us to model a much more efficient roof area for each individual home and where it sits on the land. We get solar gain all the time, even on shaded panels during the day.
"Our ZERO energy house is fully monitored, right down to separate circuits for the fridge, oven and heat pumps, with that data transferred to the Swinburne University of Technology to update the ZERO smartphone app. We also provide you with tips and tricks to reduce energy use even further.
"As more fully monitored ZERO Living homes come online, that data will help continually improve future homes, so each ZERO Living homeowner is paying it forward to help improve the world."
Swinburne University of Technology Lecturer in the Department of Civil and Construction Engineering and Project Supervisor of the Living Laboratories Project Dr Morshed Alam commends the ZERO Living model for engineered energy efficiency. "This model is a world first and we're thrilled to act as scientific partners to monitor continuing performance throughout the life of the dwellings," he said.
"There is no question this is the future of sustainable housing.'
* AEMC (Australian Energy Market Commission) reports that the average Australian electricity bill in 2021 was $1645 while Canstar Blue reports that the average gas bill for 2021 was $784. Multiplying this combined 2021 national average energy cost of $2429 by 20 provides a 20-year energy cost of $48,580.
For interviews with Tom and Ingrid Graze or other media assistance, call John Harris on 0414 789 995 or email john@impress.com.au.
About ZERO Living https://www.zeroliving.com.au/
ZERO Living is a Melbourne-based building industry innovator that has re-engineered the house design process to deliver more affordable, zero-energy homes. In collaboration with Swinburne University of Technology, ZERO has engineered the world's first series-built inner urban ZERO Energy homes. ZERO Living partners with builders and individuals to fully model energy consumption so it can deliver liveable, affordable, zero energy homes with integrated energy monitoring that produce at least twice as much renewable energy as they use.
About Enphase Energy Inc. https://www.enphase.com/en-au
Enphase Energy, a global energy technology company based in Fremont, CA, is the world's leading supplier of microinverter-based solar and battery systems that enable people to harness the sun to make, use, save, and sell their own power—and control it all with a smart mobile app. The company revolutionized the solar industry with its microinverter-based technology and builds all-in-one solar, battery, and software solutions. Enphase has shipped more than 45 million microinverters, and over 2.0 million Enphase-based systems have been deployed in more than 135 countries. For more information, visit www.enphase.com/au and follow the company on Facebook, LinkedIn, and Twitter.
© 2022 Enphase Energy, Inc. All rights reserved. Enphase, the "e" logo, and certain other names and marks are registered trademarks of Enphase Energy, Inc. Other names are for informational purposes and may be trademarks of their respective owners.