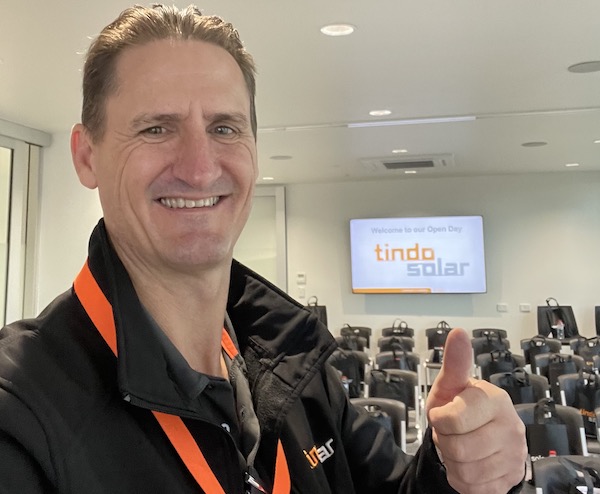 Tindo Solar CEO Shayne JaenischAdelaide-based solar panel manufacturer, Tindo Solar, has reaffirmed its commitment to quality as consumers turn against cheap imports.
Tindo Solar CEO Shayne Jaenisch said the company – which is the only maker of solar panels in Australia – saw a surge in demand for quality solar technology during the pandemic.
"Consumer behaviour changed during COVID. They pulled away from buying products from Chinese-owned companies and moved towards quality Australian brands such as Tindo Solar, and Silicon Valley technology brand, Enphase," he said.
"When COVID hit, our retail business grew 48 per cent and wholesale 70 per cent, on top of 25 per cent annual growth. We were also helped by high-ranked results from Choice magazine and Desert Knowledge in the NT, where our panel outperforms the competition by 10 to 50 per cent."
Tindo Solar is a 10-year-old Adelaide company that designs and manufactures its own high-quality solar panels from a facility at Mawson Lakes, north of the central city.
Mr Jaenisch said the flight to quality in the Australian solar market was evident in the booked-out Tindo Solar Open Day on June 22, where Enphase – the pioneer in solar microinverters – is the invited inverter partner.
"Our Open Day has booked out quicker than any before. More than half the people registered for the Open Day are already Tindo-Enphase customers, which shows their passion, loyalty and love for the product. A Tindo-Enphase system will not be the cheapest in the market, but customers are comfortable and happy with their decision."
Mr Jaenisch said the renewed focus on quality solar products was not only about durability and performance – safety was becoming an issue for the solar installation industry due to the lack of regulatory uniformity. "Changes to the AS 4777 and AS 5033 Australian Standards that govern new inverters and their installation, are being launched later this year," he said.
Once the new standards were implemented, said Mr Jaenisch, the price of cheap solar system installations would increase due to the extra burden placed on retailers to ensure safety for homeowners and first responders.
"Tindo Solar has no desire to join a race to the bottom. About 98 per cent of our solutions include either Enphase or Solar Edge as these are the two brands that give us uncompromising safety," he said. "With Enphase, even if you drop one or two panels, the rest of the system will keep working.
"The two main safety risks to avoid are electrocution and fire. With Enphase, people working on the roof do not have to worry about stray high-voltage DC cables because a microinverter-equipped solar system delivers AC power from the panel."
Mr Jaenisch said the solar industry had a low entry point. "You can start a solar business from your loungeroom, and you don't even have to be an installer. Low barrier to entry is a problem because it introduces inexperienced people and poor products into the industry.
"The result has been too much focus on price. We are troubled that some cheaper systems are being pulled off roofs after a short period of time, which causes a dumping problem and goes against the goal of renewable energy. Systems are meant to last 15-20 years. We would love to see standards improved so these cheap systems can't come into the Australian energy system."
Media contact:
Tindo Solar – Mark Abernethy +61 414 310924
Enphase Energy - Enphase Marketing Manager APAC Justin Cohen on +61 438 630 163 or jcohen@enphaseenergy.com
About Tindo Solar https://www.tindosolar.com.au
Tindo designs and manufactures technologically advanced solar panels in Australia, for Australia and the world. Tindo Solar is a wholly Australian owned and operated company founded in 2011 focused on increasing manufacturing output and creating Australian jobs in the advanced manufacturing sector.
About Enphase Energy Inc.
Enphase Energy, a global energy technology company, delivers smart, easy-to-use solutions that manage solar generation, storage and communication on one intelligent platform. The Company revolutionized the solar industry with its microinverter technology and produces a fully integrated solar-plus-storage solution. Enphase has shipped more than 34 million microinverters, and approximately 1.5 million Enphase-based systems have been deployed in more than 130 countries. For more information, visit www.enphase.com/au and follow the Company on Facebook, LinkedIn, and Twitter. Enphase Energy, Enphase, the E logo, IQ 7+, Envoy, Enlighten, and other trademarks or service names are the trademarks of Enphase Energy, Inc. Other names are for informational purposes and may be trademarks of their respective owners.