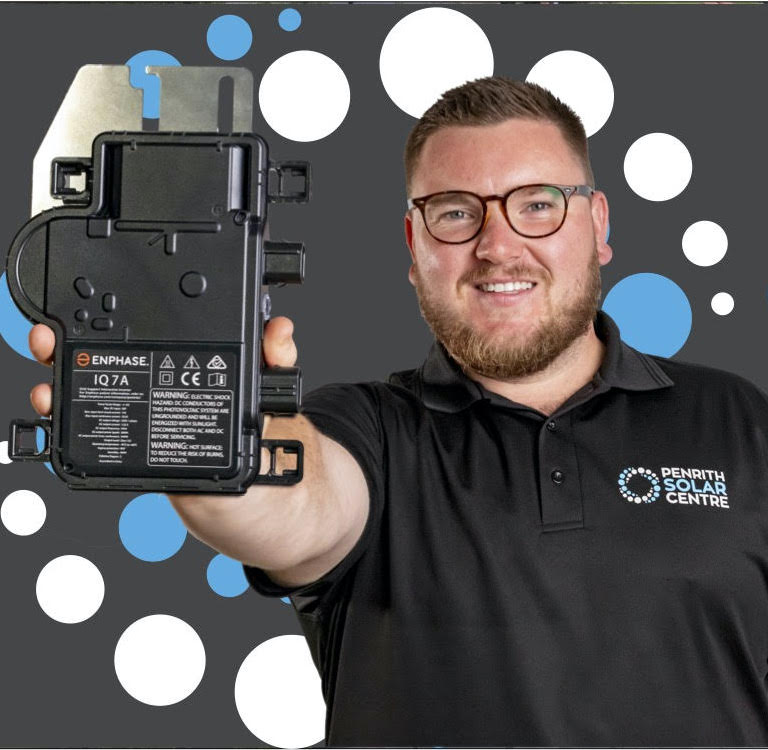 "If string inverters and microinverters were exactly the same price, no one would ever buy a string inverter."
Penrith Solar founder & MD Jake Warner

Western Sydney-based solar installer Penrith Solar Centre has joined a growing number of Australian companies that supply only microinverter-based solar energy systems because they are safer and simpler to install and support.
After a recent internal review, Penrith Solar founder and managing director Jake Warner identified that microinverters were eight times less likely to fail than string inverters. "We reviewed our in-house service records and worked out that microinverters cause us very few issues, so they're about eight times less expensive to support than general string inverters," he said.
"That's when I had the light bulb moment to use only microinverters. Not only are they more reliable, but they're easier to sell on their value, better for system design and performance, easier to install because of their size and much simpler to order and warehouse because one size fits all."
Founded in 2017, Penrith Solar has a team of about 40 people delivering an average of six solar installations per day throughout the western Sydney area extending into the Blue Mountains.
Mr Warner, who is a licensed electrician, said selling only microinverter-based systems focussed customers on value rather than price. "The reality is that if string inverters and microinverters were exactly the same price, no one would ever buy a string inverter," he said.
"A lot of people have been burnt by cheap inverter systems which were slapped together but barely even worked. Each week, we get called out to burnt-out DC isolators on cheap systems, so it's pretty scary. Microinverter-based systems are safer because their all-AC design doesn't need rooftop DC isolators.
"Also, microinverters allow greater design flexibility and system performance. Unlike most string inverters, which perform only as well as the weakest panel on that string, microinverters are connected to each panel, so every panel delivers its best possible performance in all conditions.
"This has been very important in western Sydney during the past couple of summers where generating conditions were really inconsistent. This summer was pretty rainy with a lot of cloud and last year we had all that bushfire smoke. When you do have that sort of inconsistent weather and cloud coverage, microinverters ensure each panel still generates the most energy it possibly can.
"Thirdly, the greater heat tolerance of microinverters is important in Penrith which recorded the hottest temperature in Australia last year at 48.9 degrees Celsius (120.02 degrees F). Microinverters certainly do perform better in hotter conditions when compared with string inverters.
"Also, string inverters are not that smart, so when there's a problem with a string inverter solar system, the whole system is down until we get to the site to diagnose and fix it, which may need more than one visit. It's inconvenient for the client and more costly to us to have service crews on the road.
"With the per-panel monitoring delivered by microinverters, we automatically receive alerts and can remotely diagnose system issues, so we only need to go to site once to have the client back up and running straight away. That's good for them and keeps my overheads down when it comes to offering after-sales service."
Mr Warner said microinverters also offered "massive advantages" for his company in stock ordering and warehousing. "It is far easier to manage from a retailer's point of view," he said.
"We've already ordered 7500 microinverters for quarter two this year. If I was ordering string inverters, I would have to break that down into 5 kilowatt (kW), 6kW, 7kW, 8kW, 10kW, 12kW and 15kW inverters whereas now I literally order just one microinverter for each solar panel on order.
"Because we have to order three or four months ahead, that really simplifies stock management as microinverters take up much less space on the shelf. They are also much lighter, so easier on the installers' backs physically as well by lifting multiple small inverters, not just one big heavy inverter. When you have an installation and sales company, these things are really important."
Enphase Energy General Manager ANZP Wilf Johnston said Penrith Solar was the latest Enphase partner in Australia to only offer microinverter-based solar systems. "Greater solar safety and better performance have always made good business sense, so it's great to see more installers such as Penrith Solar offering only this higher quality solar technology," he said.
For media assistance or to arrange interviews, contact Enphase Marketing Manager APAC Justin Cohen on +61 438 630 163 or jcohen@enphaseenergy.com
About Enphase Energy, Inc.
Enphase Energy, a global energy technology company, delivers smart, easy-to-use solutions that manage solar generation, storage and communication on one intelligent platform. The Company revolutionized the solar industry with its microinverter technology and produces a fully integrated solar-plus-storage solution. Enphase has shipped more than 25 million microinverters, and over one million Enphase systems have been deployed in more than 130 countries. For more information, visit www.enphase.com/au and follow the company on Facebook, LinkedIn and Twitter.

About Penrith Solar Centre (PSC) https://www.penrithsolar.com.au/
Penrith Solar Centre was born to revolutionise the way Western Sydney & Blue Mountains residents receive their solar energy solutions. Our purpose is to educate humanity to improve the quality of life. We have set out our mission to give 15,000 homes the power to produce, store and consume their own energy by 2025.