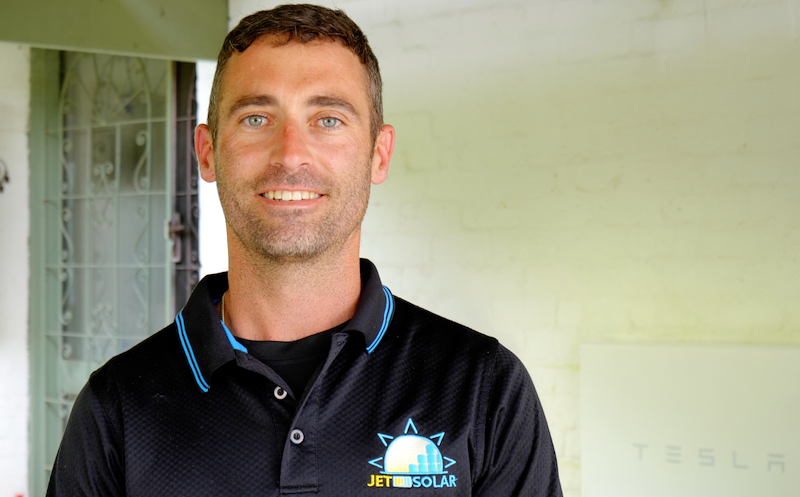 Jet Solar founder Jason Dickinson Founded six months before the COVID-19 pandemic slammed into the Australian economy, Enphase partner Jet Solar has seen sales of solar PV systems soar in the three years since it was set up.
Melbourne-based Jet Solar, which recently became an Enphase Gold Partner, was founded by electrician Jason Dickinson with just one other employee. Now he heads a team of nine, which includes a Qantas pilot who left the cockpit for the rooftop due to the collapse of international travel.
"We have a great little team," explains Jason. "We have a couple of apprentices, ranging from a teenager to a 46-year-old 'mature age' apprentice and a couple of school-based apprentices.
"We also have a full-time sales guy while one of our installers is an international Qantas pilot who joined me after he was temporarily stood down by Qantas for 12 months due to the pandemic. He only just went back to Qantas last month. So, including me, we are now a total of nine."
In the three years since it was established, Jet Solar has installed more than 1500 solar PV systems throughout Victoria, mostly in the southeast suburbs of Melbourne.
Jason said the first six months of running the new business were "pretty tough". "Then, during the first part of the pandemic, the Victorian Government forced us to shut down for three months: Fortunately, we had only one or two employees in the business," he said.
"We survived because we kept on selling, so by the time we came back, we had a massive backlog of installations. The other thing that helped us was online review systems such as Google and SolarQuotes. Since we started receiving reviews, it has gone gangbusters. We don't have one bad review out of 250. We run our business to get these online reviews. They don't lie.
"We are the highest rated installation company in Victoria and the second highest in Australia which can be found here: https://www.solarquotes.com.au/solar-installer-ratings.html."
Jason said he had established Jet Solar to do the exact opposite of the first two solar companies he had worked for. "I've been in the industry for 13 years and I started as an employee at a couple of shonky companies that had a real lack of service once the system was installed," he said.
"At Jet Solar, I do the complete opposite, our number one priority is to buck the cheap solar trend and deliver high-quality, future-proof solar and battery systems that will last more than 25 years for our customers. That approach has proven successful through the online reviews of our clients.
"That focus on quality is why we strongly encourage our prospective clients to choose Enphase when buying solar for their house. We choose Enphase because the product is superior to any other. It is made to last and has proven that in the time I have been in the industry. About half of our systems use Enphase microinverters and we have not had one failure since we started using Enphase.
"A lot of people are already Enphase-educated, so it's quicker to sell these systems because they focus on the value they will get from the system rather than its price. Also, the Enphase service team is prompt, reliable and local which is a must for me when selecting products to sell and install."
For media assistance, email John Harris at john@impress.com.au
About Jet Solar https://www.jetsolar.com.au
Based in southeastern Melbourne, Jet Solar is a solar and battery specialist that serves Victorian customers. Jet Solar works with its customers to scope and install the best solar solution for their needs, using trusted, tested and reliable brands of solar panels, inverters and batteries. Jet Solar is an Enphase Gold Partner.
About Enphase Energy, Inc.
About Enphase Energy Inc.
Enphase Energy, a global energy technology company based in Fremont, CA, is the world's leading supplier of microinverter-based solar and battery systems that enable people to harness the sun to make, use, save, and sell their own power—and control it all with a smart mobile app. The company revolutionized the solar industry with its microinverter-based technology and builds all-in-one solar, battery, and software solutions. Enphase has shipped more than 45 million microinverters, and over 2.0 million Enphase-based systems have been deployed in more than 135 countries. For more information, visit www.enphase.com/au and follow the company on Facebook, LinkedIn, and Twitter.
© 2022 Enphase Energy, Inc. All rights reserved. Enphase, the "e" logo, and certain other names and marks are registered trademarks of Enphase Energy, Inc. Other names are for informational purposes and may be trademarks of their respective owners.