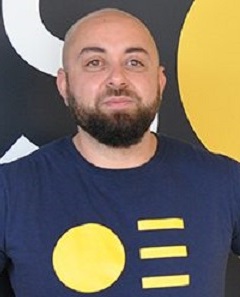 Solar Juice co-founder Rami Fedda:
"It was just a no-brainer.
We had to have Enphase"National solar equipment distributor Solar Juice has signed an agreement to distribute Enphase products in Australia and New Zealand as 2022 shapes up to become the "year of the battery".
Despite a global shortage of solar supplies due to high shipping costs and disruption in China, Solar Juice is on track to post another year of record sales as demand for solar panels and batteries boom.
Solar Juice co-founder and Supply Director Rami Fedda said his company had signed up with Enphase because it offered important product additions to the Solar Juice installer network. "Enphase provides the missing piece of our puzzle with its panel-level solution," he said.
"We are a pure B2B distributor, with a very narrow portfolio of best-in-class brands such as REC panels, Fronius and Sungrow inverters and Tesla batteries - industry-leading manufacturers with strong after-sales service. Enphase complements our portfolio perfectly with its innovative microinverters and also the launch of its batteries in Australia next year, which will provide greater choice for our installers.
"Enphase has established itself in a remarkable position during the past four years, with a strong financial foundation, superb products and excellent after-sales support. There was also demand coming from our installers who would pull into our warehouse with an Enphase logo on their trailers. We like to deal with prestige, so once I saw an opening with Enphase, I jumped at the opportunity.
"It was just a no-brainer. We had to have Enphase."
Headquartered in the Western Sydney suburb of Wetherill Park, Solar Juice is an Australian wholesale distributor of solar PV panels, inverters, batteries, solar components and full solar systems, supporting a network of more than 500 installers covering Australia, New Zealand and the Pacific Islands. Solar Juice has warehousing in Melbourne, Perth, Adelaide, Townsville and Brisbane.
Mr Fedda said he expected the Australian solar industry to continue growing rapidly during 2022 despite current pandemic-caused supply constraints driving up prices. "We are seeing a strong calendar year-end, cracking record revenues, despite panel prices skyrocketing," he said.
"For 2022, the biggest upside for us is solar technology with more smarts and battery storage. Enphase delivers on both fronts. An interesting recent development is that our revenues from batteries have matched our solar panel revenues, which shows that the market for energy storage is gaining momentum. People are buying now for energy independence. Every year it will grow faster.
"While we won't see prices decrease until at least March or later, it's a short-term concern as both residential and commercial customers are continuing to demand solar and starting to embrace batteries. Enphase gives us quality products that supply both of those demand trends. Even when prices are higher, it is a lot easier to get people over the line with premium products.
"We are especially looking forward to the opportunities presented by the arrival of Enphase's battery range in Australia. We helped LG Chem to become the largest battery supplier in Australia and are now working with Tesla, so we are very excited by exploring these opportunities with Enphase next year."
Enphase Energy Australia General Manager Wilf Johnston welcomed Solar Juice to the Enphase family. "Solar Juice is an important partner for Enphase in Australia, so we look forward to helping them to meet and build demand for our products during 2022," he said.
For media assistance, email John Harris at john@impress.com.au.

About Solar Juice Pty. Ltd. https://solarjuice.com.au
Solar Juice is an Australian based company that distributes solar panels, solar inverters, BOS and solar systems. Part of SPI Energy which is listed on the Nasdaq. Solar Juice supplies a national network of customers that are located in every state and territory of Australia.
About Enphase Energy Inc. https://www4.enphase.com/en-au
Enphase Energy, a global energy technology company based in Fremont, CA, is the world's leading supplier of microinverter-based solar and battery systems that enable people to harness the sun to make, use, save, and sell their own power—and control it all with a smart mobile app. The company revolutionized the solar industry with its microinverter-based technology and builds all-in-one solar, battery, and software solutions. Enphase has shipped more than 39 million microinverters, and over 1.7 million Enphase-based systems have been deployed in more than 130 countries. For more information, visit www.enphase.com/au and follow the company on Facebook, LinkedIn, and Twitter.
© 2021 Enphase Energy, Inc. All rights reserved. Enphase, the "e" logo, IQ, Envoy, Enphase App, and certain other names and marks are registered trademarks of Enphase Energy, Inc. Other names are for informational purposes and may be trademarks of their respective owners.