After a year of record sales that defied the economic impact of the global pandemic, Australia's solar energy industry is poised for more growth in 2021 predicts Enphase Energy General Manager APAC Wilf Johnston.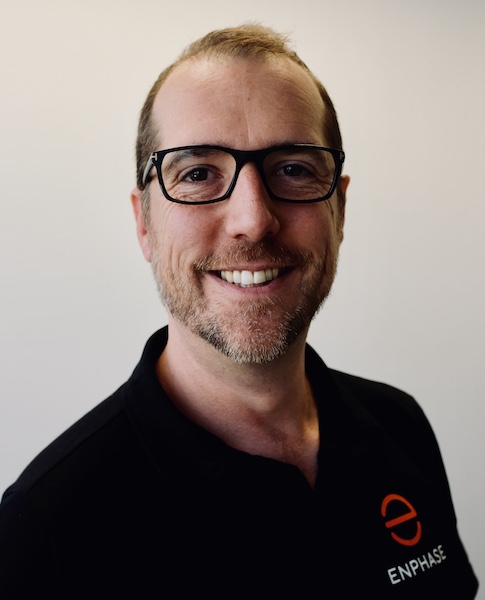 Enphase Energy General Manager APAC Wilf JohnstonMr Johnston said he expected next year to continue the current residential sales trajectory as consumers took advantage of lower prices, smarter technology and higher standards that would reduce the risk of fires and raise the overall quality bar for the industry.
Enphase Energy is the world's leading producer of microinverters, smart devices that convert Direct Current (DC) energy produced by solar panels into Alternating Current (AC) energy, which can be used safely in homes and shared with the grid. Enphase technology deploys a microinverter under each solar panel – rather than a single inverter for the entire solar PV system - which delivers greater safety and reliability, panel-level monitoring and maximum performance across all roof types and in all conditions.
Mr Johnston, who has led Enphase in Australia for the past two years 19, has worked in the Australian solar industry for more than 12 years, beginning when he headed up the engineering and commercial project team at SunPower Corporation, then later as General Manager of Energy Matters and Flex.
2020 in review: Solar sales in Australia hit record levels
Mr Johnston said residential solar system sales during 2020 were spectacular, defying the economic impact of the pandemic in Australia. "Across the industry, residential solar system sales were probably up 25 per cent compared to 2019," he said.
"Enphase in Australia has achieved its best-ever sales performance, which has seen us launch our Enphase Installer Network nationally and establish new channels, such as IKEA including our microinverters as part of their solar system offerings, through our partner Solargain.
"The reason that residential solar continues to be very hot is that it's now just a no-brainer for most people. The payback times are ridiculously good, from as low as one and a half years to four or five years. Most people look at those numbers and go: 'Wow! Let's just do it'.
"Another important achievement for 2020 is that Enphase has helped push forward the debate about how safety and quality of installations is a huge part of the solar solution space. We want to make sure that everyone recognises the importance of doing it right, of not putting homes at risk of fires or other electrical faults, and what you need to do to protect yourself and your family.
"The time is right now to improve safety standards: The Australian solar market is selling more than it has done in its entire history. If now isn't the right time to tell people to be a bit more discerning, then when is?"
Research shows that Australia recorded two solar-related fires each week during 2015, when just 15 per cent of houses had PV (photovoltaic) solar panels installed: The Department of Industry Science Energy and Resources reports that figure is now more than 21 per cent. Fire services such as Fire and Rescue NSW regularly report solar-related fires.
Prospects for 2021: Australia's hot solar market will continue to grow - with higher standards
Mr Johnston said he expected solar sales to continue setting records during 2021. "With solar panels on only one in five houses and that rapid payback, there's a lot of room for more growth," he said.
"We're seeing residential properties with more complex roofs now going for bigger systems because the prices are so good. Whereas previously people would install a fairly small system, they're increasingly saying now 'let's just cover the roof and get it done'. The pricing enables them to do that.
"Also, as electric vehicles become more common, it makes sense to oversize your system to generate more energy than your house needs, put it in a battery and then charge up your EV overnight."
Mr Johnston said he also expected strengthening of solar PV safety standards during 2021. "Fire remains a pretty big risk," he said. "If you scan the news, every month sees reports of systems catching fire, whether it's due to poor installation or just inherently risky technology. If you have high DC voltages running all over the roof, then at some point, statistically, something will probably go wrong.
"That invites questions: How do you mitigate that risk? Can you reduce the impact when it does happen? How do you de-energise the system so the fire department can work on putting out the fire? These problems are not really addressed in the current regulations and definitely need to be investigated.
"I think new standards will come out around solar system safety in the new year."
The biggest opportunity for 2021: Integrating solar-generated energy into the national grid
Mr Johnston said the biggest opportunity for the Australian electricity industry in 2021 was to work out how to integrate distributed energy into Australia's energy landscape. "Distributed energy is going to be a massive part of what Australia's grid looks like over the next decade," he said.
"Distributed energy sources like solar PV and batteries already contribute to the grid but will need to play a more structured part in that process. At the moment, we are almost gate-crashing the electricity market. The products are out there. People are buying them, people install them, but it's not being strategically coordinated with the way the market and the grid is going.
"What's exciting for Enphase is that the inverter sits at the interface between the grid, the market, and what people have in their homes. The inverter is the core decision-maker in the process of deciding what's going to be practical, useful, safe: The opportunity is that the Australian energy market is asking for smart inverters to help manage this new world order and, luckily, that's what we do."
The full range of Enphase IQ™ microinverters, including the latest IQ 7A™ microinverter for higher power modules up to 465 W, are available nationally to homeowners through the Enphase Installer Network.
To arrange an interview with Wilf Johnston, please contact John Harris on +61 8 8431 4000 or email john@impress.com.au.
Recent news:
About Enphase Energy, Inc.
Enphase Energy, a global energy technology company, delivers smart, easy-to-use solutions that connect solar generation, storage and management on one intelligent platform. The Company revolutionized solar with its microinverter technology and produces the world's only truly integrated solar plus storage solution. Enphase has shipped more than 30 million microinverters, and approximately 1.3 million Enphase-based systems have been deployed in more than 130 countries. For more information, visit www.enphase.com and follow the company on Facebook, LinkedIn and Twitter.