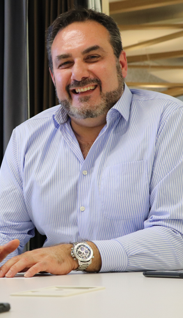 carbonTRACK managing director Spiros Livadaras Inverter and battery manufacturer SOFAR Solar has partnered with Australian smart energy innovator carbonTRACK to join the list of approved products for the South Australian Home Battery Scheme.
The partnership means that every SOFAR Solar battery sold through the South Australian Home Battery Scheme will come with access to the carbonTRACK platform.
Melbourne-based carbonTRACK's smart energy management platform unlocks multiple revenue streams for Independent System Operators (ISOs), energy aggregators, renewable energy financiers and energy traders. By using highly secure cellular communication to integrate hardware, network infrastructure and control systems with its powerful machine learning engine, carbonTRACK provides low-cost, reliable and scalable energy intelligence and resiliency.
SOFAR Solar Australia Managing Director Yolanda Wang said carbonTRACK offered an end-to-end virtual power plant solution that incorporated hardware, firmware and software. "We look forward to a close business relationship with carbonTRACK that creates a 'win-win' for both our companies," she said.
carbonTRACK managing director Spiros Livadaras said enabling SOFAR Solar's access to the South Australian Home Battery Scheme was just the first step in this collaboration. "With SOFAR Solar's products installed in more than 60 countries and territories, it is gaining recognition in the inverter market globally," he said.
For media assistance, contact Isabella Bassanelli isabellab@carbontrack.com.au.
About carbonTRACK
carbonTRACK is an Australian company which is disrupting the energy sector globally with patented technology that creates a decentralised energy ecosystem by connecting energy generators, energy distributors and energy consumers. Its technology delivers the intelligent energy management systems that facilitate embedded networks, Virtual Power Plants, and smart grids, enabling individuals, communities, businesses, and countries to harness legacy and renewable energy and harvest the benefits.
About SOFAR Solar
SOFAR Solar specialises in R&D, production, sales and service of grid-tied inverters ranging from 1.1kW to 10.5kW (single phase), 3kW to 255kW (three phase), storage inverters ranging from 3kW to 20kW, batteries and other related renewable energy products. With over 600 employees, it has a very strong and experienced R&D team that continuously improve inverter and battery technology and efficiency. SOFAR Solar offers a 10-year replacement warranty plus 25-year data storage capability.