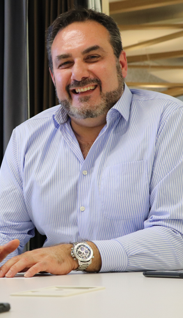 carbonTRACK Managing Director Spiros LivadarasSouth African energy system integrator Greenfox Agencies is deploying carbonTRACK's smart energy management system to help customers deal with an unreliable electricity grid.
Greenfox partners in the South African market with Alpha Energy, Solar Giant, Orca Solar and PSC Projects which distribute the Kilowatt Labs Sirius Capacitor Storage Modules and Centauri Energy Server system. This revolutionary approach to energy storage helps offset the devastating impact of South Africa's notoriously unreliable national electricity supply.
carbonTRACK's technology delivers the intelligent energy management systems that facilitate embedded networks, Virtual Power Plants, and smart grids, thus creating an intelligent energy ecosystem with remote control and partial or complete grid independence.
In South Africa, Greenfox is deploying carbonTRACK's technology to revolutionise formerly analogue switchboards into "digital load panel" switchboards that can be easily managed remotely, letting customers prioritise in response to load-shedding and electricity fluctuations on the country's grid. carbonTRACK's energy management hubs allow users who have solar PV and batteries to further maximise their energy storage whilst enabling flexible management of their day to day appliances.
carbonTRACK Africa, Alpha Energy andGreenfox Agencies will explore opportunities in the South African market where all three companies have built a presence over the past few years.
carbonTRACK Managing Director Spiros Livadaras said potential South African target customers included commercial and large residential deployments as well as off-grid energy systems. "Legacy switchboards are essentially analogue, so once you wire up your essential and non-essential loads, you're pretty much set with them," he said.
"However, in South Africa, where load-shedding is a weekly scheduled event, these pre-set schedules are no good for people who invest in generators or batteries to offset these power outages. Having a 'digital load panel' with storage or back-up generators allows customers to 'drag and drop' loads in and out of their essential or non-essential list to deal with peak demand.
"Greenfox is using carbonTRACK's intelligent energy management technology to 'digitise' storage solutions, making them easy to manage, both onsite and remotely, using our carbonTRACK app."
Other advantages of carbonTRACK's technology include fleet-view access via the carbonTRACK dashboard, reduced truck rolls through remote management, demand response, frequency regulation, virtual energy trading, and increased grid resiliency.
For media assistance, contact:
Isabella Bassanelli
Marketing Manager, carbonTRACK
E: isabellab@carbontrack.com.au
About carbonTRACK https://carbontrack.com.au/
carbonTRACK's technology delivers the intelligent energy management systems that facilitate embedded networks, Virtual Power Plants and smart grids, enabling individuals, communities, businesses and countries to harness legacy and renewable energy and harvest the benefits.
About Greenfox Agencies; http://www.greenfoxagencies.co.za/
Greenfox creates solutions to the world's complex energy problems. Their products meet the energy demands of today while unlocking the potential of a sustainable energy future safely, economically, and efficiently. Their goal is to eliminate fossil fuel usage in transport, utilities, industry, micro-grids, and regions with no energy access with products that massively reduce cost and improve performance at least 10x.