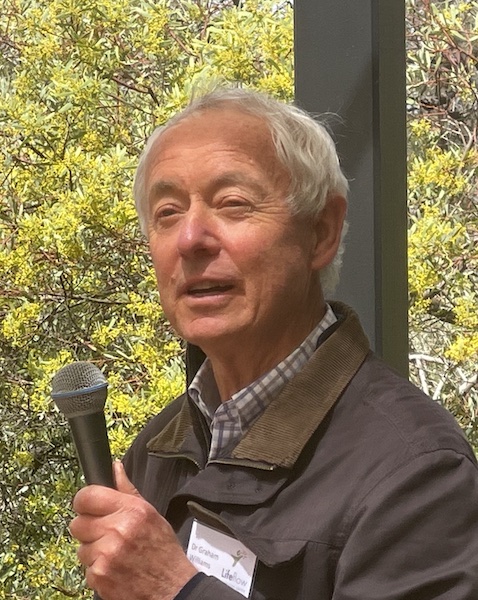 Lifeflow founder Dr Graham WilliamsAfter Australian divorces surged during the pandemic, a Buddhist monk is showing South Australian singles and couples how meditation can enrich their sexuality at an Adelaide Hills event this weekend.
Dr Graham Williams, a Buddhist monk trained in the Tibetan and Burmese meditation traditions, said the pandemic, especially lockdowns, had placed extra stress on relationships since the start of 2020.
Earlier this year, the Federal Circuit and Family Court of Australia reported it had received 47,016 divorce applications during the 2021-22 financial year, after 49,625 in the previous financial year. Both years marked a large rise on the 2018-19 financial year when there were 44,432 divorce applications.
Graham said stress was known to negatively impact both mind and body during sex. "Stress can increase your body's production of cortisol, the stress hormone known to reduce libido," he said.
"Cortisol is released as a part of your body's fight or flight response to stress, which can really disturb creating an intimate connection with your partner. When problems occur during sex, it's easy to think that they are caused by your body, your partner or your relationship.
"The real problem is in our heads, which are filled with multitasking distractions from leading overly busy and often stressful lives. The bottom line is we need to switch off so we can turn on."
This weekend, Graham will lead the Enriching Relationships retreat, which is already more than 80 per cent full. Organised by Lifeflow Meditation Centre, this event is held at a peaceful bush-lined purpose-built retreat centre near Nairne, in the Adelaide Hills. Attendees are mostly aged 30-60 years, comprising about 60 per cent women and 40 per cent men.
Tara Hills Retreat Centre, run by Lifeflow Meditation Centre
Graham will explain how meditation can help improve relationships: As well as enriching your sexuality, he will show how meditation can lead to a richer relationship with yourself, your partner, and a truly open-hearted connection with other people in your life. Three takeaways for better sex include:
Slow down for greater sexual intimacy
Investigate pleasure by focussing on sensations, not the finale
Get comfortable talking about sex.
Graham said mindfulness and sex made a great couple by relieving stress and increasing libido. "Our lives are filled with the distraction of multitasking due to mobile phones, work-home contention, social media and streaming services, which we hold together – until it comes to sex," he said.
"That's when mental multitasking and distraction make it hard to stay focussed in bed. Over time, our sexual insecurities can kick in and may even reduce our desire for sexual intimacy.
"Meditation aims to train your mind to be present by connecting it with your body. Mindfulness reduces distraction by enabling us to feel physical experiences more fully, letting us enjoy better sex.
"Sex is the one place where we can be with someone on all levels – physically, emotionally and mentally – and that is what makes it unique. Regular meditation can help us create a space where we connect on a deeper level with our partner."
Enriching Relationships is just one of the popular, often sellout, retreats run by Lifeflow Meditation Centre, a 41-year-old not-for-profit organisation that operates from premises on Glen Osmond Road, Frewville. Other Lifeflow retreats this year cover topics such as Grief and Loss; Healing the Past; and Restore, Rejuvenate, Revitalise!
For more information about Lifeflow Meditation Centre, visit https://lifeflow.com.au/.
For media assistance or to arrange an interview with Graham Williams, please contact either: