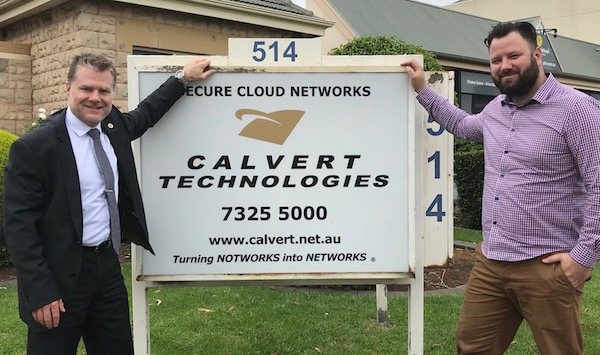 Dean Calvert (left) with Bobby CollierAustralian small business IT specialist Calvert Technologies has expanded its capacity, especially in the real estate industry, after acquiring the assets of Adelaide-based technology company Vivid IT.
Set up in 2013, Vivid IT had a customer base throughout Adelaide, from bricks-and-mortar retailers to several real estate agencies. Calvert has also recruited Vivid IT founder Bobby Collier as an account manager. As well as running his own company, Bobby's technology experience includes positions in the defence industry with Raytheon and the Australian Air Warfare Destroyer Alliance.
Calvert Technologies is an Adelaide-based Microsoft solutions company that services small business, corporate and government customers throughout Australia. With a headcount of 12, Calvert has clients including Group Training NT in Darwin, the Challenger Gold Mine, Adelaide Expo Hire, Mykra and LCS Landscapes.
Calvert Technologies founder and managing director Dean Calvert said Vivid IT was a "great cultural fit" with his company. "Vivid IT was a smaller version of our company, providing managed services and core products such as Office 365 and security, so there's a great alignment," he said.
"We decided to bring these two businesses together because collectively we can deliver better services to customers than we could separately. Bobby has an intimate product knowledge from his time on the tools with Vivid IT, plus a first-hand understanding of what makes businesses tick, so he's passionate about delivering solutions to real-world business problems.
"Vivid IT's strength in the real estate sector will extend our company's existing portfolio of real estate agencies, so we are very happy with this synergy."
Bobby Collier said his new role was the perfect fit for his skills. "A lot of account managers have never run their own gig, so Vivid IT has equipped me to see things from both sides of the fence," he said.
"Calvert is a great company with a welcoming culture that delivers services throughout Australia, so I'm looking forward to stepping up to this level. Together we will kick some goals."
For media assistance or to request interviews, call John Harris on 08 8431 4000 or email john@impress.com.au
About Calvert Technologies
Calvert Technologies, a multi-competency Microsoft Partner, provides high quality information technology support and consultancy services to businesses throughout Australia. The privately-owned company focuses on providing quality solutions that don't "break the bank", so that its clients enjoy real value and productivity with a low total cost of ownership. Visit the Calvert website at www.calvert.net.au.
Related News
Calvert warns against cyber complacency

Business IT expert Calvert Technologies warns that complacency is the greatest danger facing organisations that seek productivity and cost benefits by embracing technology trends s...
Calvert issues heatwave warning for home tech

Small business technology expert Dean Calvert has warned homeowners to turn off unused electrical equipment if they leave their home unattended during heatwaves while on holiday. ...