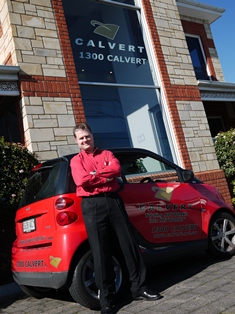 Australian small business technology expert Calvert Technologies has again reached the finals of the Microsoft Australia Partner Awards (MAPA) – marking its fifth consecutive appearance!
Calvert is nominated for the Small Business Specialist Partner of the Year award, with the winner to be announced next week at the annual Microsoft Australia Partner Conference at the Gold Coast Convention & Exhibition Centre. The conference runs August 23-25.
From nearly 12,000 Microsoft partners across Australia, Calvert is also the only South Australian company that appears throughout the 21 award categories.
Calvert Technologies is an Adelaide-based company that specialises in providing IT support and consultancy services to small businesses. The Microsoft Gold Certified Partner, which focuses on providing quality solutions that don't "break the bank", is currently experiencing record demand.
The company's founder, Dean Calvert, is internationally recognised as an expert in deploying Microsoft's software in a small business environment. Dean regularly speaks at Microsoft conferences in the US, Australia and New Zealand – where he was snowed under with more than work this week!
Dean Calvert said making the MAPA Finals recognised the important role of making Microsoft's products relevant to small business. "We see our job as ensuring that our customers get the best value from their investment in Microsoft's software," he said.
"Although the current economic uncertainty means some customers are holding back on starting new projects, many others are embracing the reduced costs and improved flexibility offered by Cloud-delivered services, such as Microsoft Exchange Online.
"After putting their toes in the water last year, these customers are now recognising that, configured correctly, Cloud-delivered services can be more secure, more available and more affordable than the traditional approach of hosting email servers in-house – particularly for small businesses."
For more information, visit the Calvert Technologies website at www.calvert.net.au
For media assistance and photographs:
Call John Harris at Impress Media Australia on 08 8431 4000 or email jharris@impress.com.au.