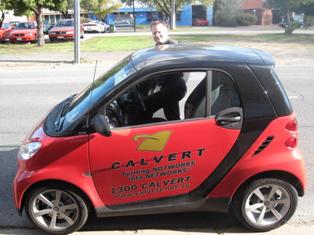 Microsoft Gold Certified Partner Calvert Technologies has invested in "greening" its operations by buying a Mercedes smart car to reduce carbon emissions produced by its staff making service calls.
Calvert has purchased the Mercedes smart fourtwo coupe, powered by a new micro hybrid drive (mhd). The $25,000 car is driven by Calvert's field technicians, who attend client sites to install new equipment and address issues that cannot be resolved remotely
Managing director Dean Calvert said the new car handled very well. "The decision to buy the smart car was driven by a beautiful blend of pragmatism and idealism," he said.
The Australian Government's Green Vehicle Guide rates the smart fortwo cabrio mhd as having the lowest greenhouse and air pollution emissions in Australia. See www.greenvehicleguide.gov.au for more details.
Calvert Technologies is an Adelaide-based company that specialises in providing IT support and consultancy services to small businesses. The Microsoft Gold Certified Partner, which focuses on providing quality solutions that don't "break the bank", is currently experiencing record demand.
Mr Calvert said: the smart fourtwo was cheap to run, easy to drive and parkand was kinder to the environment than traditional work cars. "It's the perfect car for our techs as they run around the city doing jobs," he said. "Its mhd engine switches off when you stop at the lights, so it gets very quiet. The moment you take your foot off the brake, the engine automatically starts again, so you're ready to get moving.
"Its small size makes it easy to park especially when going into the city. While its bold red colour doesn't make it go faster, it does stand out, particularly with its signage. We expect the second car of our fleet to hit the roads in June this year with plans for a third later in the year."
For media assistance and photographs:
Call John Harris at Impress Media Australia on 08 8431 4000 or email jharris@impress.com.au.
Related News
Calvert grows with new GM and two recruits

Adelaide-based smart business IT specialist Calvert Technologies continues its strong growth by appointing its first General Manager and recruiting two new members of staff. Calve...