Details

In Innovation

/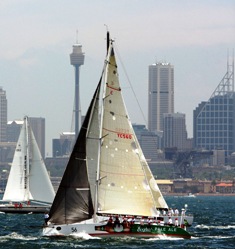 Adelaide PR veteran and passionate sailor Mike O'Reilly has launched a one-hour, video chronicling the 2008 Sydney to Hobart ocean race by yacht Rager, on its final race at the hand of skipper Dr. Gary Shanks.
Mr. O'Reilly, who sailed in his inaugural Sydney-Hobart last year, took two video cameras on the epic three-day race which saw 56-foot Rager as the 25th boat to cross the finish line.
Since his return to dry land, Mr. O'Reilly has compiled a one-hour video about Rager's last race owned by Dr. Shanks. Dubbed Rager: Going South...One Final Time, the video was launched at an invitation-only party on Saturday attended by many crew members from various Rager voyages.
When Mr. O'Reilly is not crewing for mates or sailing his own yacht O Really, he runs Adelaide-based communications agency, O'Reilly Consulting. Since he first started in PR 30 years ago, riding shotgun for the Chief Minister of the NT, Mr. O'Reilly has held roles as PR Manager for SA Brewing and Communications Director for Dean Brown's 1993 election win.
Learn more about Mike O'Reilly at www.oreillyconsulting.com/ or check out the rough cuts from his Rager video at www.youtube.com/watch?v=nnrMYTOuyW4